WRITING MY LEGACY
"You are not going out this day, nor any other day that strips away what you have yet to do. You have not fixed it. You have not done what it was you were born to do. I'm not going to do it for you. I'm not going to lift your banner for you to see it through. You're the one, you're the one who's going to have to do it. You're going to have to fight through this blow in order to shine on." – The Wolf King
(Excerpt from Legacy © Copyright 2014 NeverMore Publications, LLC)
When I first began writing the screenplay to Legacy, I was in a place in life where nothing was really happening–all the humdrum of the hours was nothing but that…a hum. And what I needed was the loud beat of the drum, pounding its way into my soul, summoning the call of the soldier within to march to a different tune than the hum I was repeating from the sunrise of the days before. I had to ask myself, Why is it that I feel this way and what is it that I was ultimately after, for the answer to that alone would be the key to my unsung door. What I wanted was to be in a different place in life where I did not have to struggle so hard to live the life I had chosen for myself–that of a creator–an actor, a writer, a dreamer.
So I pondered my existence at that moment, remembering the day when I veered down another path than the one I was on, asking myself, what do I want out of this, and why do I feel the need to do it? Well, for one, I have to do it; there is no surer answer. And yet, I wanted to live a life better than the one I was living. I wanted to dream a bigger dream where those that came after me–my friends, nephews, nieces, godchildren, children and grandchildren–would know without a shadow of a doubt that dreams were possible…and that they could thrive, that they could grow, and that they could be lived upon. And out of that moment where I looked ahead to all the goals I had set in place for myself and all my bloodline after me (if they wanted it), I had forgotten a very simple thing: it is who you are and how you lived that is remembered best. Not the money and success you leave behind. That may encourage someone with a similar dream, but how you live and what you stand for is what truly inspires. And it was off that reminder that the story to Legacy came to life.
I think I wrote the outline to the screenplay in a single sitting, pouring over the pain of the moments where I have felt myself standing still, marking the barriers that stood in my way, wondering where it was I was meant to go, and knowing that when I got there I might not be equipped for the moment I alone have imagined. Weaving it into an epic fairytale, I found myself lost in the inspired worlds of my childhood–Neverending Story, Star Wars, Legend, Krull, Harry Potter, The Wizard of Oz, Lord of the Rings and The Chronicles of Narnia–all over again. What I came up with ultimately broke my heart and put it back together again. I had no intention whatsoever of turning it into a book, but like all things…you should always be open-minded. You never know what door is the one that is meant to be opened. And this one opened like a flood.
"To never have what you thought you wanted, to never be what you dreamed you could be, to give everything you had and get nothing in return…it is a choice you have to make, young lion. Do you engage?"
Marcus stood and looked up at the eagle captain towering over him.
"You may fail, prince…but the better question to ask is…what if you win?"
(Excerpt from Legacy; Property of NeverMore Publications, LLC)
May you enjoy the passion of my heart…my Legacy…
AVAILABLE NOW ON AMAZON AND KINDLE!!!
——————–
THAT CHILDLIKE FEARLESSNESS…
PUBLISHED BY ROWANMEIR FILMS
Over the last few years, I've watched my nieces (and now my nephews) explore the world around them, as if every object , every person, every color and shadow were a universe all its own. That childlike wonderment has always given me pause, for behind it there is a sense of discovery and exploration unrivaled in the life of the adult due to one small thing…there is no pause in the curiosity. There is only the leap—hands outstretched to grab hold of every bit of life that rests before their eyes, moments without fear as every detail is studied as if it were the rarest flower or the final sunrise. Looking at the young ones, I have often envied them from time to time—their life without fear.
To watch a child learn to walk—to stumble and fall—only to get back up again and keep moving forward, is a constant reminder that that is the only way to truly live. There is no stopping their life force from rising up like the dawn and moving forward as if there were no roadblock, no tiresome day that drains the energy of scarce free moments at night. Always moving, always discovering, always tackling.
That age of innocence and youth was what I was after when writing Hailey. And I found myself being inspired by the will of the young I once shared to face fears head-on, to leap and not be afraid to fall, only to get up again and move forward to see what else lay ahead. That is the Hailey I imagine. The fearless one. The risk taker. The child I used to see in that reflection of glass, and now see in every child outside the mirror. And it is I, who have found the means to sit in childlike wonderment. Not because of the sense of discovery and exploration of the children I see before me, but for the rediscovery of the fierce female child I once knew myself to be—the one Scott has drawn Hailey to be—and allowed me to rediscover. The fearless lion and lioness in all of us that has the courage to face the storm. To be the one who keeps going when there is no reason in sight. May Hailey's courage reawaken the fearlessness in you, as she has within me.
-Corina Marie Zurcher
"Face your fears head on."
——-
REMEMBERING ROD
"We come. We go. And in between we try to understand." – Rod Steiger
I remember the day my agent called me and said, "You have an audition at 11:30. You're reading for a lead role opposite Rod Steiger!" Pause. "You know who Rod Steiger is, don't you?" "Of course I know who Rod Steiger is!" (I had absolutely no idea who he was.) "Good. You're reading for the part to play his granddaughter Biddy." I had three hours until the audition. Driving up to L.A. in my clunker of a car, I memorized the lines as fast as my brain cells could possibly absorb, formulating a cognitive pathway that I could travel upon in which I hoped to retrieve them later on in the day. I was to read for a feisty tomboy (that explains the character name) who runs away with her grandfather to find his long lost son. I walked into the audition room wearing jeans, a baseball t-shirt, and sneakers as I attempted to immerse myself in the role I had about an hour to prepare. The read went well, and by the time I got a callback, I had already begun my research on Mr. Rod Steiger. As I read through his IMDB page, I quickly understood the enthusiasm in my agent's voice. Rod Steiger was not just an actor worthy of a boisterous announcement followed by a pause, he was an actor to be admired and respected. He was an actor's actor, and he was larger than life. As I scrolled through his endless list of credits, I realized why his name did not register the morning I received the call. I had seen most of his films, yet I did not recognize him from one film to the next. He was a chameleon. A master of disguise as he created his iconic characters in each and every role he portrayed onscreen: On the Waterfront, Oklahoma, In the Heat of the Night, The Illustrated Man, Doctor Zhivago, Mars Attacks, The Pawnbroker, The Hurricane…the list went on and on. I sat back in my chair staring at the screen on my computer monitor, thinking only one thing: I want this part. I want to work with this master of the screen. So I went out and got as many movies of Rod's that I could find…and I watched them all.
After several reads, and a few months later, I got the call. I had booked the part. I called around to all my friends in utter excitement, "I'm playing Rod Steiger's granddaughter!!!" Pause. "Don't you know who Rod Steiger is?!?!" "No, I don't. But congratulations!!!" The irony of such a moment. The first time I met Rod was the first day he was called to set. You could feel the vibration in the air. You could sense the anticipation flowing from one trailer to the next as the crew prepared for his arrival, for the legend was coming… I was heading back to my trailer to change wardrobe for another scene when an elderly man in a golf court came barreling toward me. There was a rule on set about that golf cart. No one but the P.A. was allowed to drive it–at least, that was what was told to me. The cart stopped right in front of me, breaking hard, and the man behind the wheel shouted like a roaring lion, "So you're my costar!" I looked at him and saw the faintest smirk forming on his lips as he looked at me through his thick-rimmed glasses. His eyes twinkled in mischief as I replied, "Actually, it's the other way around." That did it… He grinned at me from ear to ear and let out a loud, "Ha!" Then he winked at me, put the golf cart in reverse and said, "You're in for it now!" He sped away, rolling over the curb with the P.A. seated helplessly in the passenger seat. Watching him drive away across the set, taking control of his environment, I liked him immediately and knew we would get along magnificently. And we did. Rod Steiger is one of the most generous actors I have ever had the privilege and blessing to know. At the time I met him, he was almost eighty years old. He had lived and breathed the Actor's Studio, performed in televised plays that are still revered (Marty), starred opposite the most famous actors in Hollywood (Marlon Brando, Sidney Poitier, Julie Christie, Arnold Schwarzeneger, Denzel Washington), and he was still gong strong. He loved acting. He was on fire about it, passionate about doing not just good work but GREAT work. And he was hard on himself if he missed or forgot his line (which, to my recollection, was never!), apologizing if it threw me off as we worked off of one another throughout all of our scenes, running lines between them, swapping scripts to see what each other had written and discovered in our notes marking our subtext.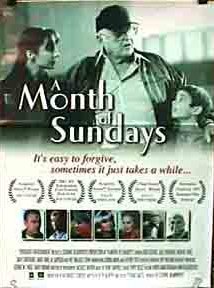 There was one night in particular, one night that I will never forget so long as I live, that even now overwhelms and humbles me as I write it. We had put in a fourteen hour day, and my close-ups were the last to be filmed that night. We had already shot Rod's, and as the camera was being turned around for mine, Rod had been wrapped for the night. It was a night shoot, and it was also really cold out. Rod had told me that over the years he had two hip replacement surgeries and heart surgery. He also had hearing aids in both his ears. He had put in a really long day and there was no reason to have Rod stay…but he did. He refused to go home. He turned to me and said, "You're my costar. I'm staying right here to give you everything you need for your performance, as you just did for mine." If the cold and long night weren't bad enough, it had started to rain. But he still refused to go. A crew member had given Rod a tarp and was holding it over his head as he read his lines opposite mine. I will never forget it, seeing him standing there in the pouring rain, giving his all to a young, unknown actress in a tiny independent film. Rod Steiger stood in the rain…for me. Even now, I cannot help but miss him. He was a champion in my corner, encouraging me to take bigger risks, challenging me to listen better, and in so doing, he made me a better actor. He had set the bar for me—on how to treat your fellow actor, on how to fight for your character if you truly believed there was a better way, a better choice, a better word to convey a deeper understanding of the written word–when to stand up, when to lie down…and then do what you want anyway and get away with it. Rod was a master of improvisation. Every take, every line, he would do something new. One take he would be laughing, the next crying…I never knew what he was going to do next. He made it real. On the last day on set he said to me, "Don't make the same mistake I did. After I won the Oscar, I waited for my next opportunity, thinking it would come. It was four years later when it finally did. Create your opportunity." My kindred spirit.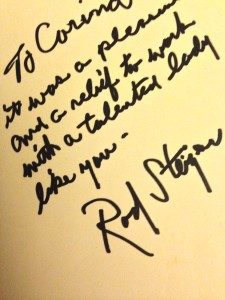 Why I'm thinking of him on this day or at this moment, I really couldn't say. Perhaps it's because of where I am in life at this moment, thinking of all the places I've gone and all the places I long to be going, knowing that I am following his advice, with or without really knowing it. All I know is that I am thinking of him, grateful to have known him, inspired to speak about him, and feeling inspired to share him with others too. Here's to you, Rod.
– Corina Marie